Witnessing The Rising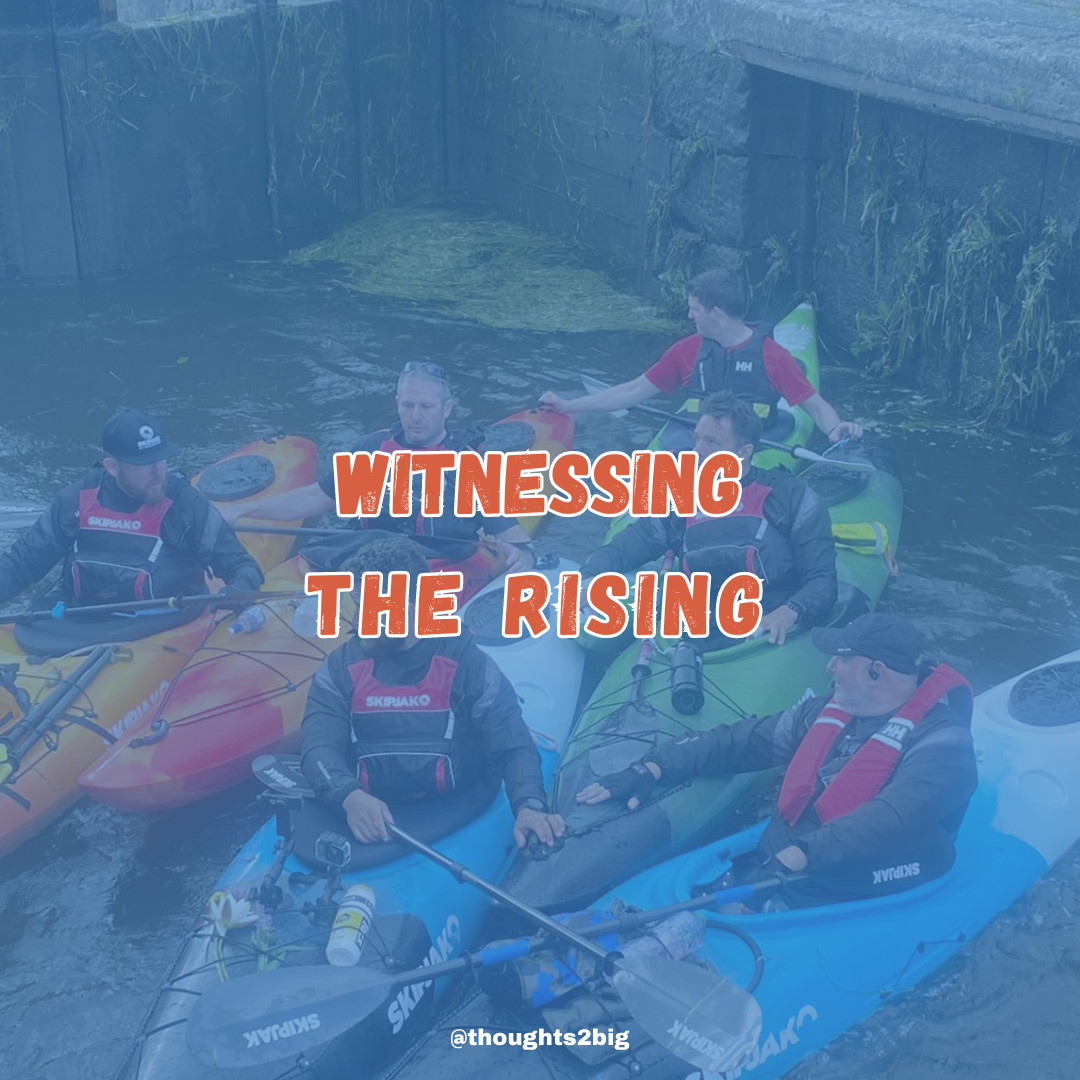 Witnessing The Rising:
The rain has fallen all week. As the lads pull out of Kilgarvan Quay, it begins to fall again. This is Day 6. Bodies are tired, hands are blistered, talk is minimal. Lough Derg lies ahead. Bressie is anxious to get in the water as early as possible, which makes sense. Ray is chirpy as always, proud of what the guys have done so far. Joe's energy is calming as he sips coffee. Colin and Paul seem focused because they feel what the day ahead demands. Dav is joking, bringing some lightness to the situation as usual. And then they're gone, slipping quietly into the gentle tide.
The Rising was a 330km kayak down the River Shannon. But it was also a lot more than that. I watched as they kayakers became a team, knitted together by an adverse challenge. Communities came together to offer tea, sandwiches, support, encouragement, hope. Everyone involved – Stu, Abe, Joe, the A Lust For Life team, Mairead, Bernie, Ciara, myself and Dave – did whatever was necessary, going beyond the bounds of our pre-determined 'roles'. The Rising became bigger than kayaking. It became symbolic of something universal – that when human beings come together with a common goal, any goal can be achieved.
The Rising was a fundraiser for the A Lust For Life Schools Programme, a programme that teaches kids how to look after their wellbeing. and as I sit and reflect now on the Rising, it becomes clear that the seemingly impossible task of creating good mental health support in this country can be achieved, if only we all come together it service of that common goal. Much like everyone on and off that river last week, if we all do what needs to be done, we'll get there.
I'm glad to have witnessed it, to have been a part of it some small way. Because something like this fills you with hope. It lets you know that people do care, that people are trying, even when the odds are stacked against them. Even when it seems unlikely that the task can be completed, those people still stand. And as the lads emerged in Killaloe on Wednesday, after facing a ferocious and feral Lough Derg, I felt the same way. Here they were, having beaten the odds on something insurmountable, getting off the water and getting ready to do it all again the following morning.
---
If you would like to donate to The Rising, you can do so here